News
Mobile Fingerprinting Solutions Has Teamed Up With Ohio Pre-Employment Services
---
National WebCheck Fingerprinting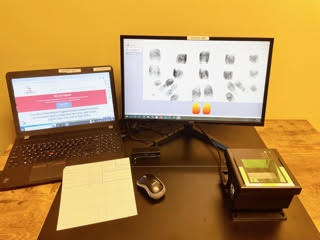 Ohio Pre-Employment Services, under the name of Mobile Fingerprinting Solutions, LLC., offers standard Webcheck and National Webcheck technology to conduct fingerprint criminal record searches at the Ohio Bureau of Criminal Identification & Investigation (BCI&I) and/or the Federal Bureau of Investigation (FBI).
Live scan digital fingerprinting
Mobile biometric scanner fingerprinting
The National WebCheck system makes the process of collecting civilian fingerprints and utilizing the fingerprints to conduct reliable background checks effective and efficient. Making the process digital has greatly reduced the time it takes to conduct a background check.
Obsolete systems required all background checks to be submitted manually. With National WebCheck this is no longer the case because the software's submission is automatic. The essential images and corresponding demographic information are transmitted to BCI & FBI.
National WebCheck complies with FBI requirements by capturing and transmitting three separate images, the four fingers on the right hand, the four fingers on the left hand, and then the two thumbs. After the images are transmitted, the system checks the sequence of the prints to ensure they are valid. It then separates the prints into fourteen images. The system again checks to make sure the quality of the prints will be sufficient for future identification purposes and also that they are real.
These are steps that would have been done manually prior to the creation of National WebCheck. Doing it this way reduces the possibility of human error, and requires fewer man-hours than the obsolete systems did.
National WebCheck's necessary tools for the collection and transmission of fingerprints are relatively simple. All it takes is a PC with access to the Internet so that the images can be transmitted, a four-digit fingerprint scanner, and a magnetic swipe reader. These devices save time on the front end of the process. Instead of waiting while identification information is manually entered into the computer, users can simply have their driver's licenses scanned into the system.
Ohio Pre-Employment Services is proud to offer the most reliable and efficient service to its customers. National WebCheck allows us to do just that. By reducing manual data entry, using the speed of the internet we can provide the most advanced fingerprinting and background check system there is.